Dr Emma Ladouceur
Scientific Guest
Biodiversity Synthesis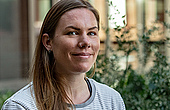 Research Interests
My interests include vegetation, regeneration and seed germination ecology, trophic interactions, and systematic decision-making applied to the most pressing questions surrounding ecological restoration, conservation biology and ecosystem function. In the Biodiversity Synthesis and Physiological Diversity Labs, we explicitly investigate the entire set of community assembly processes that might affect the functioning of ecosystems (CAFE approach). We build on recent analytical advances and tools, including the Price equation, Structural Equation Modelling (SEM) and prioritization, to investigate how changes in species richness and composition driven by environmental change affect ecosystem function, to help develop the next generation of ecosystem-biodiversity interaction studies.
Find more at my personal research website: https://emma-ladouceur.github.io/conservation/
Short CV
2018- Ongoing: Postdoc, Biodiversity Synthesis Lab, iDiv
2014-2017: PhD, University of Pavia, Italy
2014-2017: Marie Curie Early Stage Researcher, The Native Seed Science Technology & Conservation (NASSTEC) Initial Training Network (ITN), Museo delle Scienze, Trento, Italy
2013-2014- Research manager, Queensland University of Technology (QUT), Firn Research Group, Brisbane, Australia
2012-2013- Research officer, Centre for Mined Land Rehabilitation (CMLR), University of Queensland, Brisbane, Australia
2011-2012: MSc in Conservation Biology, University of Queensland, Brisbane, Australia, Mayfield Lab
2009-2011- Junior Planner, Environmental Planning, City of Toronto
2003-2007: Bachelor of Urban & Regional Planning, Ryerson University, Toronto, Canada
See a full visual CV on my website: emma-ladouceur.github.io/conservation/cv/
Selected Publications
Maria Tudela-Isanta, Emma Ladouceur, Malaka Wijayasinghe, Hugh W. Pritchard, Andrea Mondoni. 2018. The seed germination niche limits the distribution of some plant species in calcareous or siliceous alpine bedrocks. Alpine Botany. doi.org/10.1007/s00035-018-0199-0 .
Ladouceur, E, Jiménez-Alfaro, B, Marin, M, DeVitis, M, Abbandonato, H, Iannetta, P, Bonomi, C, Pritchard, H. 2017. Native seed supply and the restoration species pool. Conservation Letters. doi.org/10.1111/conl.12381 .
Firn, J, Ladouceur, E, Dorrough, J. 2017. Integrating local knowledge and research to refine the management of an invasive non-native grass on critically endangered grassy woodlands. Journal of Applied Ecology. doi.org/10.1111/1365-2664.12928 .
Ladouceur, E, Mayfield, M. 2017. The early response of subtropical grasslands to restoration treatments. Restoration Ecology. doi.org/10.1111/rec.12491 .

Puschstrasse 4
04103 Leipzig
Germany


+49 341 9733255

Affiliation
Alexander von Humboldt Foundation
Leipzig University