Assessing the state of "naturalness" of mammal communities in rewilding areas
"Naturalness is the basis of effectiveness." - Maharishi Mahesh Yogi
Rewilding aims at the restoration of self-sustaining complex ecosystems and biodiversity while minimizing human interventions. Its main focus is the development and improvement of dispersal capacities, natural stochastic disturbances and trophic complexity within the ecosystem. Yet, evaluating the effects and progress of rewilding interventions is still a matter of discussion. Recent indicators assessed trophic complexity as a function of species composition (presence-absence of large-bodied fauna) in the area (Torres et al. 2018). But for a community to be able to fulfil its ecological function, it is also important to consider additional factors such as the abundance of the respective species or their behaviour. The abundance can have relevant implications on trophic food chains and energy flows between trophic levels, while behaviour influences inter- and intraspecific interactions as well as physiology and fitness.
The aim of this project is to evaluate rewilding progress regarding trophic complexity by assessing how "natural" a mammal community is in terms of occupancy, abundance and behaviour. An optimal natural state is hereby defined as an ecosystem without any human interference and pressure. Most of the study will be conducted in the northern part of the Peneda-Gerês National Park in Portugal, where the BioCon group already maintains a long-term monitoring project on land-use changes, passive rewilding and wildlife communities.
While information on natural and historical occurrences of large-bodied fauna are already available from previous work, we attempt to model potential natural abundances via energy flux calculations. Current occurrences and abundances will be obtained from camera trap data.
Behaviour will be assessed with a focus on species' activity patterns, as those can also be estimated from camera trap data and recent research has shown that they represent an important part of animal behaviour with wide-ranging responses to human disturbance and effects on community functions.
We aim at developing an "naturalness" indicator implicating how much the current state of the community deviates from a potential natural state while creating a better understanding of the impacts of humans (e.g. through disturbances, fragmentation, hunting or tourism) on it. The indicator will be tested in case studies with data from different rewilding sites across Europe. We hope that it will inform researchers as well as managers and conservationists and help guide future restoration actions.
Torres, A., Fernández, N., zu Ermgassen, S., Helmer, W., Revilla, E., Saavedra, D., Perino, A., Mimet, A., Rey-Benayas, J. M., Selva, N., Schepers, F., Svenning, J.-C., & Pereira, H. M. (2018). Measuring rewilding progress. In Philosophical Transactions of the Royal Society, 373 (1761). https://doi.org/10.1098/rstb.2017.0433
Participants: Zuleger, Annika M.
Duration: 2021 - 2024
Funding: The project receives no specific funding.
Our research aims at understanding the patterns and processes of global biodiversity change, with the goal of informing environmental policy and management of ecosystems.
You can find more detailed information about the different projects by clicking the + symbol.
Please contact the contact persons if you need any further information.
EuropaBON
Europa Biodiversity Observation Network: integrating data streams to support policy

An EU-wide framework for monitoring biodiversity and ecosystem services.
Despite the relatively large number of studies and datasets that exist on biodiversity in Europe, we still lack sufficient knowledge about how biodiversity and wildlife populations and their distributions change over time and space. The reason for this is the limited availability of harmonised, long-term, spatially explicit and regularly updated biodiversity monitoring data at the EU-scale. This lack of information hampers the evaluation of effectiveness of biodiversity-relevant EU policies.
EuropaBON tries to fill this information gap by designing a European Biodiversity Observation Network. To do this, EuropaBON will consult with- and engage stakeholders in all stages of the project and use state of the art models to produce Essential Biodiversity Variables (EBVs) and Essential Ecosystem Service Variables (EESVs) developed by the Group on Earth Observations Biodiversity Observation Network (GEO BON). More specifically, EuropaBON will assess current monitoring efforts to identify gaps, data and workflow bottlenecks, and analyse cost-effectiveness of different monitoring schemes. The results of this assessment will be used to inform the design of improved monitoring schemes able to integrate in-situ and remote sensing data through models, and using novel technologies, to deliver more complete and less biased biodiversity information with multiple benefits to users and society.
A set of showcases will demonstrate how the EBVs and EESVs provide timely and relevant data for EU member states and regions, including policy-relevant indicators to assess progress in biodiversity targets, short-term biodiversity and ecosystem services forecasts, and scenarios that support IPBES and other assessments. Finally, EuropaBON will also investigate the the feasibility of setting up a centre to coordinate monitoring activities across Europe.
Project PIs:
Henrique Pereira (MARTIN-LUTHER-UNIVERSITAET HALLE-WITTENBERG), project coordinator
Ian McCallum (INTERNATIONAL INSTITUTE FOR APPLIED SYSTEMS ANALYSIS)
Lluís Brotons (CENTRE DE RECERCA ECOLÒGICA I APLICACIONS FORESTALS)
Daniel Kissling (UNIVERSITEIT VAN AMSTERDAM)
Aletta Bonn/Ingolf Kühn (HELMHOLTZ-ZENTRUM FUR UMWELTFORSCHUNG GMBH)
Joachim Maes (JOINT RESEARCH CENTRE- EUROPEAN COMMISSION)
Bruno Smets (VLAAMSE INSTELLING VOOR TECHNOLOGISCH ONDERZOEK N.V.)
Anne Lyche Solheim (NORSK INSTITUTT FOR VANNFORSKNING)
Pedro Beja (INSTITUTO DE CIENCIAS, TECNOLOGIAS E AGROAMBIENTE DA UNIVERSIDADE DO PORTO)
Pavel Stoev (Pensoft Publishers)
Simon Potts/Tom Breeze (THE UNIVERSITY OF READING)
Maria Dornelas (UNIVERSITY OF ST ANDREWS)
Leho Tedersoo (University of Tartu)
Roy H. A. van Grunsven (DE VLINDERSTICHTING)
Cesar Capinha (UNIVERSIDADE DE LISBOA)
Duration: November 2020 to May 2024
Funding: The EuropaBON project is funded by the European Union's Horizon 2020 research and innovation programme under grant agreement No 101003553.
+info:www.europabon.org
Long-term monitoring in the Peneda-Gerês National Park
The Peneda-Gerês National Park in Northern Portugal was created in 1971 with the aim to protect the soil, water, flora and fauna, while preserving its high value to human and natural resources. It is the only national park in Portugal and supports a great diversity of habitats, some of them classified as Special Areas of Conservation in the Habitats Directive. Within the boundaries of the park, approximately 235 vertebrate species were identified, of which 200 are threatened or under protection, e.g. the Iberian wolf (Canis lupus signatus) which was almost hunted to extinction during the last century.
Historically, agro-pastoral activities were widespread in the northern region of the park, but population declines and emigration over the past 60 years led to agricultural abandonment and the possibility of wildlife comeback through passive rewilding. Consequently, the area offers the opportunity of studying the effects of land abandonment and rewilding on ecosystems and communities.
Our working group monitors those land-use changes and the resulting effects on wildlife in an ongoing project since 2015. The long-term monitoring includes weather and climate data, vegetation and land-use data obtained from aerial images as well as information on animal populations from camera trap surveys. The goal is to make all data publicly available in a large database. This rich, long-term dataset can then be used in an array of monitoring and ecological studies.
Additionally, the area serves as an educational and research site for master's students and several PhD projects, resulting in various conservational and ecological projects that also include other focus areas and taxa.
Participants: Zuleger, Annika M.; Jörger-Hickfang, Theresa; Pereira, Henrique M.
Duration: 2015 – on-going
Funding: The project receives no specific funding.
Monitoring Rewilding with eDNA metabarcoding
Halting and reversing biodiversity loss is the main goal of conservation biology and it is the main objective of Post-2020 Global Biodiversity Framework. Rewilding is an innovative and process-oriented approach that aims to strengthen the adaptive capacity of ecosystems by (re)establishing ecological processes to enhance biodiversity. Rewilding projects are gaining support as an approach that reconciles nature conservation and ecosystem restoration with society and economy. Although a few studies proposed indicators for the ecological assessment of rewilding, empirical evidences are still scarce. Monitoring changes in mammal community is a key indicator for measuring the effect of rewilding as they are an integral part of the trophic complexity due to their top-down effect and their dominant interactions on regulation and functioning of ecosystems. However, traditional monitoring methods for mammals, such as camera trapping could be tedious and expensive due to vandalism, logistics and monetary investment. We need more efficient, replicable and easy to implement tools to monitor the long-term biodiversity changes across time and space. Fortunately, upcoming innovative techniques, such as environmental DNA (eDNA) metabarcoding, have proven to be a valuable tool for biodiversity assessment and are revolutionising how we monitor biodiversity. eDNA metabarcoding consists in the identification of multiple taxa via next-generation sequencing using DNA from water or soil samples. It holds an immense potential to monitor aquatic and terrestrial biodiversity at much larger scales and more effectively than other methodologies such as camera-trapping.
In this project, we aim to implement eDNA as a biodiversity monitoring tool in the only rewilding site in Germany, the Oder Delta, which is a unique region with a rich mosaic of terrestrial, marine and fresh water ecosystems and is the study site of the project "Rewilding-DE" led by UFZ, iDiv and MLU. Rewilding-DE aims to assess the trajectory of rewilding using among others, camera traps.
With eDNA we will detect mammal communities and compare them with the information gained by camera traps. We aim to assess the feasibility of using eDNA instead of camera trapping in the future. To do so, we are collecting water, soil and mosquitoes' samples in the same places where the cameras are. We are amplifying 12S and 16S locus and preparing a library for next-generation sequencing for mammal species identification. To our knowledge, this will be the first project to use eDNA at a rewilding site and could set a precedent for an efficient methodology for monitoring biodiversity changes in the long-term.
PIs: Maria Mendez Camarena, Sandeep Sharma, Luis Daniel Prada Salcedo, Martin Schlegel, Henrique Pereira.
Duration: 01.02.2023 until 31.12.2023
Funding: Support of iDiv funded by the Deutsche Forschungsgemeinschaft (DFG, German Research Foundation) – FZT 118, 202548816
Tropical Andes Observatory (TAO)
From Data to Decision: Collecting, Mobilizing, and Harmonizing Tropical Andes Observatory Data for Improved Conservation Planning
Effective and timely conservation and sustainable development policy relies upon high-quality biodiversity information, yet the capacity to generate, integrate and deliver this information in user-friendly formats is a challenge in biodiversity hotspots such as the Tropical Andes. Existing efforts suffer from taxonomic, spatial and temporal biases, inadequate integration, and often remain within the academic context, limiting access and relevance to policy makers.
Recent advances in biodiversity informatics, communication tools and observation network design, combined with in-situ and remotely sensed information, offer an opportunity to improve efficiency and impact of biodiversity observatories in the region. The challenge is to harness these advances through the establishment of a network of harmonized, efficient national observatories, that can not only improve change detection capacity, but also inform effective conservation and policy.
By developing a sustained, user-driven, locally operated, harmonized and scalable regional biodiversity observation network in the Tropical Andes, connecting data to decisions, we will achieve the following results:
Early warning and surveillance systems employing state-of-the-art predictive models that can inform prevention, detection and mitigation of threats (e.g. invasive species, emerging zoonosis) to human well- being and local and regional economies
Sustained regional biodiversity observation capacity, built on existing data and efforts, combined with advanced data management and analytics systems from global partners, to improve discoverability, access and utility of information
A Biodiversity Indicators Dashboard for the Tropical Andes allowing continual visualization of biodiversity indicators to support nations' ability to achieve and track domestic and international conservation targets and sustainable development goals.
This project will prioritize the identification of spatial, temporal and thematic gaps that can advance information that meets user needs. TAO will develop and integrate national biodiversity observing systems by grouping specific steps into five work packages: (1) Engagement; (2) Assessment; (3) Design; (4) Implementation; & (5) Capacity building and knowledge exchange.
Participants: Henrique Pereira, Laetitia Navarro, Miguel Fernandez, Jose Valdez
Duration: June 2019 to May 2022
Funding: The TAO project has received funding from ERANet program under grant agreement ERANet17/BDS-0249
+info: geobon.org/about/projects/tao-tropical-andes-observatory
OptimCS
Maximizing the power of citizen scientists for biodiversity monitoring and conservation
Citizen science is mainstream: millions of people contribute data to a growing array of citizen science projects annually, forming massive datasets that will drive research for years to come. But is every data point equally "valuable"? Data are collected with distinct spatial and temporal biases, leading to unfortunate gaps and redundancies in these data. This project will build a workflow which allows us to maximize the information content that citizen scientists contribute to our collective knowledge of biodiversity by developing algorithms that predict the highest 'valued' sites in space and time for biodiversity sampling by citizen scientists; leading to more efficient use of the growing collective citizen science effort in space and time.
Factsheet: Download
Participants: Corey T. Callaghan
Duration: November 2020 to November 2022
Funding: This project has received funding from the European Union through the Marie Skłodowska-Curie Actions Individual Fellowship scheme, under grant agreement 891052.
Unraveling biodiversity change with time series-data
What is the socioeconomic value of landscape management
I am working on project 11 of the TerraNova ITN project (http://www.terranova-itn.eu/): "What is the socioeconomic value of landscape management". The main aim of this project is to develop a framework to compare the socio-economic costs and benefits provided by ecosystems before and after rewilding, which will then be applied to selected TerraNova field sites.
Currently I am studying conservation and, more specifically, rewilding funding, with the goal of highlighting successful funding avenues for rewilding projects. Of particular interesting are novel funding mechanisms that can generate both ecological and economic returns over time.
Contact: Rowan Dunn-Capper
The aesthetical value of birds – assessing a sociocultural ecosystem service
Cultural ecosystem services (CES) are an important, yet often underrepresented aspect of ecosystem service assessments. Aesthetic appreciation of nature is a popular example for CES, but very context-dependent and therefore hard to assess on higher than local scales. What is "aesthetic", and how can you measure it? Taking birds as a model group, this is the focus of a doctoral thesis at our group in iDiv, in collaboration with the Central Repository for Natural Science Collections at Martin Luther University Halle-Wittenberg.
Based on an analysis of the data coverage of a Germany-wide citizen science project, we will assess which traits of birds lead to a higher probability of record submission and can thus be regarded as crucial for birds' attractiveness to people. This will include the application of sound- and image-processing tools to describe coloration and song characteristics of birds, and the analyses will also include data on body size, morphometric traits and behavior. With the help of global distribution data, we will examine if there are global gradients and hotspots regarding the manifestation of the mentioned traits, to see for instance where there are potentials for expanding ecotourism activities. Bird species differ in the amount of attention they get in the public, in conservation and throughout science. Another aim of this study is to explore whether this imbalance can also be explained with species-specific traits.
This project is funded by the German Environmental Foundation with a PhD scholarship for a period of three years.
Contact: Max Hofmann
Defining a framework for Rewilding European landscapes in the Anthropocene
The term rewilding has gained a lot of attention in the past years, recently it has been proposed as a tool for restoration of ecosystems and biodiversity conservation. Despite the potential for rewilding to address biodiversity loss, this concept has been criticised by its lack of accountability of the rewilding measures and the its low ability to predict and mitigate negative outcomes. This can be attributed to the low understanding of the role that humans play on the success of the implementation of rewilding projects. In fact, most of the present studies have focused on implementing these projects without including key stakeholders. Adding to this, there is little knowledge on how societal perceptions on nature and wilderness dictate future outcomes of rewilding. Therefore, there is in high need for more research that addresses and studies to envision possible feedbacks between nature and society.
Scenarios are powerful tools to envision how nature might respond to different pathways of future human development and policy choices. Scenarios for rewilding can be used to evaluate and asses the effect of society on nature but also to evaluate the role that nature plays on the socio-economic development. Said that, in my project I will focus on developing multiscale scenarios for rewilding European landscapes. In order to develop these scenarios, it is necessary to first elaborate participatory scenarios with multiple stakeholders based on current challenges to meet the different societal and climate demands. Second, it is necessary to develop biodiversity and ecosystem services models in order to asses all possible implications of the different scenarios for rewilding in the lifestyles of the communities. Finally, together with the stakeholders evaluate and identify the possible rising tensions between rewilding and the maintenance of cultural landscapes.
This project has received funding from the European Union's Horizon 2020 research and innovation programme under grant agreement No 813904. This output reflects the views only of the author(s), and the European Union cannot be held responsible for any use which may be made of the information contained therein.
PDF Download: Terranova White Paper 2020
Contact: Laura C. Quintero U
Project coordinator: Sjoerd Kluiving
Project Manager: Ruud van Ooijen (r.van.ooijen@vu.nl)
Promoting and shaping the EU restoration agenda through mobilisation of rewilding principles
1 January 2017 – 31 December 2019
Habitat loss is a major barrier to biodiversity conservation in the EU and to achieving the goals of the Birds and Habitats Directives and the Water Framework Directive. Restoring and maintaining large and interconnected areas of high quality habitat such as wetlands and floodplains is therefore of utmost importance for the conservation of nature in Europe in the years to come.
Implementing both the Habitats Directive and the Birds Directive, and achieving a good ecological status of waters under the Water Framework Directive, will require large-scale ecological restoration in the EU. However, progress so far has been disappointing: none of the 28 EU Member States has presented an adequate plan to restore 15% of their degraded ecosystems, in spite of their commitment under the EU Biodiversity Strategy to develop such plans.
This initiative aims to strengthen the EU ecological restoration agenda. The project is being implemented by a coalition of five organisations, covering scientific, practical and policy expertise: iDiv - German Centre for Integrative Biodiversity Research, Rewilding Europe, WWF European Policy Office, BirdLife Europe and European Environmental Bureau.
We seek to find opportunities for rewilding European landscapes in alignment with European policies on green infrastructure, ecosystem services and restoration targets. The ultimate goal of the project is that by 2019, specific actions are taken by the EU Commission to create a coherent Ecological Network in Europe and incorporate rewilding principles in large-scale conservation policy.
We envision 'rewilding' as a multifaceted concept with three broad dimensions that interact with each other: 1) restoring and giving space to natural processes, 2) reconnecting wild(er) nature with the modern economy, and 3) responding to and shaping of cosmopolitan perceptions of nature conservation among the European society.
The role of iDiv will be to conduct research on how rewilding principles can help to restore biodiversity at a European level, as well as develop a case for a strong trans European Green Infrastructure Initiative (TEN-G) to achieve the 15% Restoration target of the EU Biodiversity Strategy and the Water Framework Directive good ecological status objectives. Panels composed by multidisciplinary teams of scientists, practitioners and policy officers from across Europe will work together to pursue this research.
This project receives funding from WWF Netherlands.
Contact: Dr. Néstor Fernandez
Boosting Ecological Restoration for a Wilder Europe
Néstor Fernández, Aurora Torres, Florian Wolf, Laura Quintero and Henrique M. Pereira
Martin-Luther-Universität Halle-Wittenberg
iDiv
1. Aufl. 2020
Format: 21,0 x 29,7 cm
Umfang: 17 S.
ISBN 978-3-9817938-5-7
https://dx.doi.org/10.978.39817938/57
Enhancing Biodiversity Conservation through Scenarios and Models of IPBES Assessments and Science-Policy Interface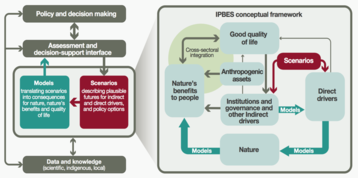 As a follow on of the Millennium Ecosystem Assessment, and modelling after the report mechanisms of the IPCC (Intergovernmental Panel on Climate Change), IPBES (Intergovernmental Science Policy Platform on Biodiversity and Ecosystem Services) envisages to generate science based knowledge foundation to better support policy for biodiversity conservation, sustainable development and human well-being. IPBES is a science policy interface that provides governments and stakeholders with policy relevant and scientifically credible assessments on the status and trends of biodiversity, ecosystems, and its contributions to people. IPBES produces global, regional and thematic assessments, provides methodological guides and tools to support policy decisions, and promotes coordinated research on nature and its benefits to societies around the globe.
For research to impact biodiversity conservation, scientific knowledge needs to be translated and transferred to where society make decisions for the future of nature. Scenarios can be powerful tools for envisioning how nature might respond to different pathways of human and societal development. To date, most scenarios for global environmental assessments have explored impacts of society on nature, such as biodiversity loss, but have largely undermined the role of nature and related policies in socioeconomic development.
Over the next few years, IPBES will vision and develop a new set of scenarios that will impact biodiversity conservation across scales and sectors around the globe. The new IPBES scenarios and modelling framework will shift traditional ways of forecasting impacts of society on nature to more integrative, nature-centred visions and pathways for the future of nature that are relevant for conservation policies and practice. It will integrate the socio-ecological feedback loops across divers, biodiversity, ecosystems, ecosystem services, and human well-being, incorporating multiple systems of knowledge.
Together with a wide range of stakeholders and scientific communities around the globe, the IPBES Expert Group on Scenarios and Models will build on and address gaps between existing scenarios (plausible futures for nature on local, regional, national and global scale) and desired scenarios (desired futures for nature and nature's contributions to people) for biodiversity and ecosystem services. These desired plausible scenarios would include trends and projections of changes in demography, development, land use, global trade, economic growth, technological advancement, and human livelihoods, to name a few. They will explore alternative policies and management practices, supported by improved use of scenarios and models, to better support decision-making in nature conservation and sustainable development.
Short term activities (2017-2018)
Using the classic modelling approaches, IPBES will mobilize wider scientific communities to engage in forecasting the outlook of nature and nature's contributions to people for the IPBES Global Assessment. The modelling communities will run existing global level models to assess the impact of IPCC's Shared Socioeconomic Pathways (SSP) scenarios on biodiversity and ecosystem services, using harmonized land use and climate datasets. The modelled outputs will serve as an input to the ongoing IPBES Global Assessment, and potentially provide the basis for the long-term scenarios and modelling in future IPBES assessments.
Long term activities (2016-2021)
IPBES will mobilize scientific communities to align their activities in support of the IPBES scenario development and to orchestrate a long-term research agenda. The activities for developing a new generation of IPBES scenarios include visioning of the positive outlook of nature through stakeholder engagement, identifying pathways building on existing innovative good practices with potential challenges and opportunities for regime shifts, bridging scientific communities and stakeholder groups through continuous dialogue with results communication, translating visions into scenarios with quantitative and qualitative modelling and integration of multiple knowledge systems, examining policy and management relevance in supporting the use of scenarios in decisions for conservation and development.
With increased awareness of nature's role in sustainable future, such as in the United Nations Sustainable Development Goals, we are at an opportune era in history where the value of biodiversity can be better acknowledged through the global governance of human and societal development. This next generation of scenarios will explore alternative visions to reach intertwined global targets, including potential synergies and trade-offs between nature conservation and other development goals. Ultimately, these scenarios will support the future assessments of IPBES with modelled results on trends, status and projections of interactive impacts of nature and society.
More information: https://www.ipbes.net/deliverables/3c-scenarios-and-modelling
Reference reading: Rosa, IMD, Pereira, HM, Ferrier, S, Alkemade, R., etc. 2017. Multiscale scenarios for nature futures. Nature Ecology & Evolution 1, 1416–1419. doi:10.1038/s41559-017-0273-9
Contact: HyeJin Kim