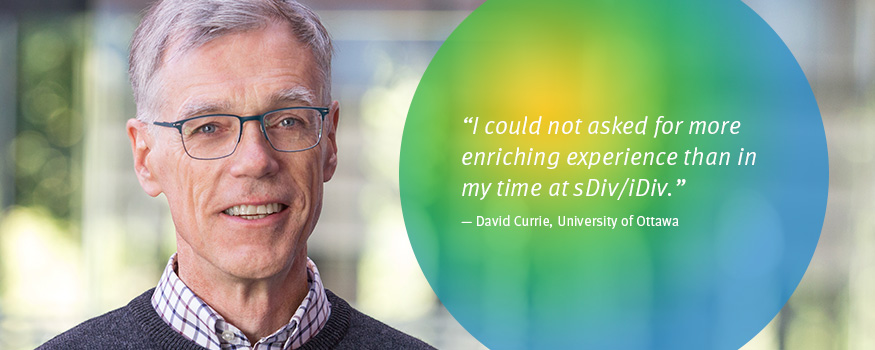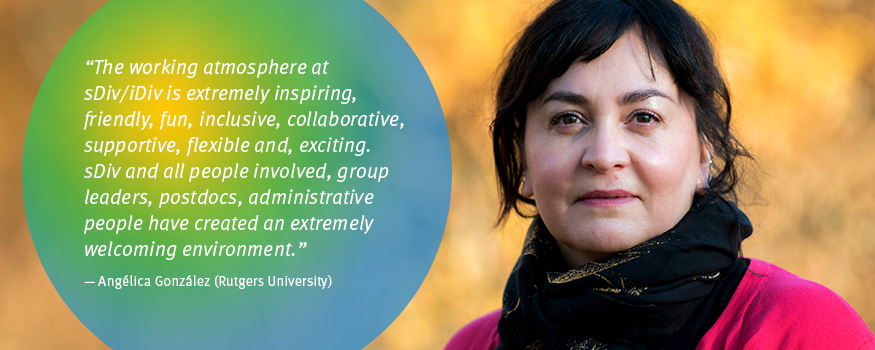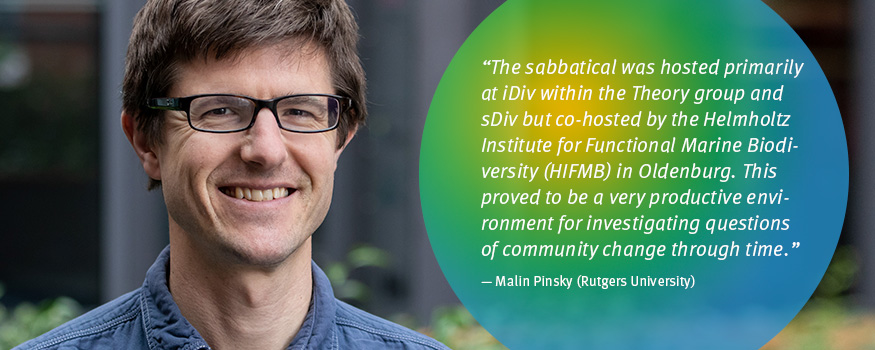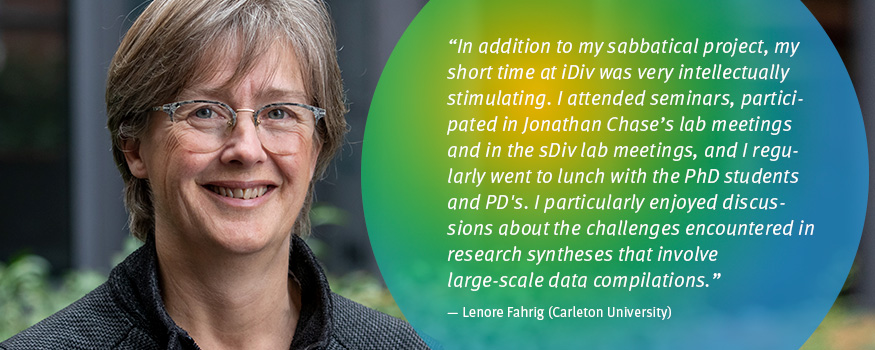 Interactions and scientific involvement of iDiv visiting scientists are central mechanisms which contribute to iDiv's mission to be a leading biodiversity research centre. iDiv sabbatical researchers play an important role in contributing to the iDiv mission through their intellectual and social interactions, in which they share their vision, experience and passion for biodiversity research.
iDiv Sabbatical Board
Admin contact
The pre-proposal deadline has recently passed
---
---
Current iDiv Sabbatical Fellows
Hosted by Nadja Rüger, Christian Wirth, Thorsten Wiegand, Jens Kattge
Demographic diversity in forests and their influence on ecosystem functioning
Forest ecosystems harbor amazing amounts of biodiversity and play a major role in the global carbon cycle. Using a combination of mathematical models, simulations, experiments, and observations, my research aims to achieve a mechanistic and predictive understanding of forest dynamics (1-3). Recently, my research group has uncovered simple mechanisms of forest dynamics that may explain consistencies in emergent patterns of tropical and temperate forest dynamics. Through collaborations with Rüger, Wirth, Wiegand, Kattge, and others, at iDiv, I plan to study and test the role that these mechanisms of forest dynamics play in driving differences in dominant plant strategies and their diversity in forests in both tropical and temperate zones. While at iDiv, I am eager to generate new insights into the drivers of diversity in forests, develop collaborations, engage with students through a short theoretical ecology course, and practice the integration of basic and applied sciences of biodiversity.
---
Future iDiv Sabbatical Fellows
Hosted by Christiane Roscher and Stan Harpole
Investigating the repeatability of global change field experiments
Doing a sabbatical at iDiv would enable me to accomplish several things. First, I would be able to immerse myself in an intellectual environment where colleagues are doing cutting edge ecological and evolutionary biological theory and research. Second, I would create lasting relationships with scientists at iDiv. Third, I would explore ecological research in Germany more broadly and become familiar to long-term field experiments taking place there. Fourth, I would complete a project analyzing the repeatability of field experiments. There is a need to understand the degree to which experimental outcomes are repeatable, but less than 1% of studies in ecology are fully repeated. Using a large database of field experiments, I will study whether same experimental treatments resulted in the same ecological outcomes at 12 sites. Finally, I would spend 4-5 months in Germany with my family, immersing ourselves in the language and culture and enriching our lives.
Hosted by Jonathan Chase
Effect of degradation and heterogeneity on biodiversity of neotropical vascular epiphytes
During my sabbatical at iDiv, I wish to investigate the influence of habitat loss and deforestation on neotropical epiphytes using a synthetic dataset on vascular epiphytes across Neotropical sites as well as a meta-analytic approach. In the synthetic data study, I will explore the effects of forest degradation and habitat heterogeneity on epiphyte diversity across spatial scales. In the meta-analysis, I will compile data and investigate the effect of different land uses on vascular epiphyte diversity. Both studies highlight the importance of understanding the impacts of deforestation on epiphytes, which have a strong dependency on atmospheric climate, since it is their main source of water and nutrients. I expect to have many interactions and collaborations within the iDiv community with scientists from all levels, and hope to leverage this time to develop long term partnerships for future studies.
Hosted by Sonja Knapp, Marten Winter, Christine Fürst, Carsten Meyer, Aletta Bonn
The Role of Historical and Contemporary Socioeconomic, Racial, and Cultural Segregation in Structuring the Spatial Distribution of Nature and Biodiversity in Cities
The proposed sabbatical project will address how the social geography of cities, as shaped by historical and contemporary dynamics of culture, race, ethnicity, socioeconomics, and migration, influences the biogeography of nature and biodiversity in cities. This research will advance understanding of urban socio-ecological systems by more deeply integrating social and cultural processes into a global comparative analysis of cities. The project will develop new collaborations with a number of iDiv researchers, produce coauthored articles, and a book for a broader public. More broadly, the sabbatical will help me learn from the expertise and experience of my hosts and other iDiv scholars to both broaden and deepen the scope of my research and the book now in development. In addition to immersing in the scholarly discourse at iDiv, I will offer lectures, courses/workshops, co-organize conference sessions, and develop a Study Abroad course for North Carolina State University and iDiv students.
---
Past iDiv Sabbatical Fellows
Name (Affiliation)

Research project

Year

Report

Priyanga Amarasekare (University of California Los Angeles)

A framework for biodiversity maintenance: scaling up from modules to communities

2018

Stephanie Bohlman (University of Florida)

Linking biodiversity and demography through remote sensing of trait tradeoffs

2019

Cynthia Chang (University of Washington)
Placing ecological succession in applied global change and restoration context
2022
download (PDF)

Douglas Chesters (Chinese Academy of Sciences)

Phylogenetic integration of insect community data

2019

Sandra Cuartas (Universidad de Antiquia, Medellin, Colombia)
Meta-networks of species diversity and community pollination in the Andes of Colombia
2023
download (PDF)

David Currie (University of Ottawa)

A continental theory of biogeography: predicting geographic variation in species richness and range size

2016

Rodolfo Dirzo (Stanford University)

Research on plant-herbivore interactions under climate change and collaborations on biodiversity science

2017

Robert Dunn (NC State University)

The Global Biogeography of Microbes and Mutualists Associated with Humans

2017

Lenore Fahrig (Carleton University)

Dissecting SLOSS: Why are there more species in several small than few large patches?

2020

Benjamin Gilbert (University of Toronto)

Project 1 – Neutrality, Demographic stochasticity and ecological drift

Project 2 – Local interactions, Regional constraints, and multiple stable states

2017

Angélica González (Rutgers University)

Understanding the interactive effects of temperature and nutrients on ecological processes: a meta-analysis

2018

Erik Hom (University of Mississippi)
Of Sloths and Franken-Lichens: Elucidating the Biodiversity, Chemical Ecology, and Physiology of Algal Polycultures
2021

Christopher Klausmeier (Michigan State University)

Synthesizing Trait-Based Ecological Theory

2019

Jeremy Lichstein (University of Florida)

Plant functional diversity and forest ecosystem stability: insights from dynamic vegetation models

2018

Elena Litchman (Michigan State University)

Trait-based community patterns in microbes

2019

Laura Lopez-Hoffman (University of Arizona)

Governing biodiversity across space: Discovering principles of sustainability and equity for telecoupled social environmental systems

2022

Fernando T. Maestre (Universidad Rey Juan Carlos)

Climate change impacts on dryland soil biodiversity and associated ecosystem functions from local to global scales

2018, 2019 and 2022

Angela Peace (Texas Tech)

Structured Population Dynamics Subject to Stoichiometric Constraints

2022

Roxibell Pelayo Escalona (Universidad de Los Andes, Mérida, Venezuela)
Ecological networks along altitudinal gradients in the Páramos in Venezuela
2023

George Perry (University of Auckland)

Reconstructing movement and emergent ecological functions for extinct animals

2019

Malin Pinski (Rutgers University)

Community response to changing temperatures across marine, freshwater, and terrestrial realms

2020

Patti Vitt (Chicago Botanic Garden)

Phylogenetic Endemism, Functional Trait Diversity and Conservation Status in the Orchidaceae: a Global Synthesis

2018