Our research has three main pillars: we study (1) biodiversity effects on ecosystem functioning, (2) global change effects on complex communities and ecosystem functioning, and (3) macroecological patterns of (soil) biodiversity and ecosystem functioning. Taken together, these complementary approaches allow us to combine data on global patterns with that of targeted experiments on specific drivers and ecological mechanisms. You can find more detailed information about the different experiments and projects by clicking the + symbol. Please approach the contact persons if you need any further information.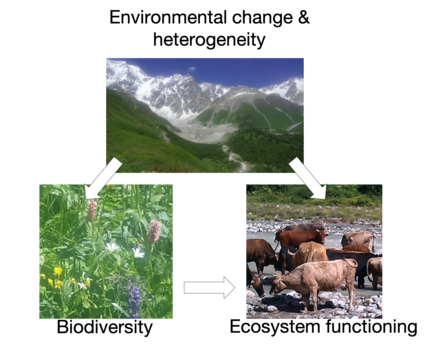 Biodiversity Effects on Ecosystem Functioning
The Jena Experiment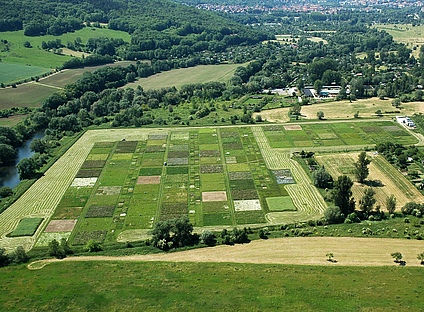 Despite broad consensus of a positive biodiversity–ecosystem functioning (BEF) relationship, the underlying ecological and evolutionary mechanisms have not been well understood. The current Research Unit (2019-2023) in the Jena Experiment aims at filling this gap of knowledge by applying novel experimental and analytical approaches in one of the longest-running biodiversity experiments in the world. The central aim of the Research Unit is to uncover the mechanisms that determine BEF relationships in the short- and in the long-term. Increasing BEF relationships with time in long-term experiments do not only call for a paradigm shift in the appreciation of the relevance of biodiversity change, they likely are key to understanding the mechanisms of BEF relationships in general. The subprojects of the proposed Research Unit fall into two tightly linked main categories with two research areas each that aim at exploring variation in community assembly processes and resulting differences in biotic interactions as determinants of the long-term BEF relationship. Subprojects under "Microbial community assembly" and "Assembly and functions of animal communities" mostly focus on plant diversity effects on the assembly of communities and their feedback effects on biotic interactions and ecosystem functions. Subprojects under "Mediators of plant-biotic interactions" and "Intraspecific diversity and micro-evolutionary changes" mostly focus on plant diversity effects on plant trait expression and micro-evolutionary adaptation, and subsequent feedback effects on biotic interactions and ecosystem functions. This unification of evolutionary and ecosystem processes requires collaboration across interdisciplinary subprojects in targeted plant and soil history experiments using cutting-edge technology and will produce significant synergies and novel mechanistic insights into BEF relationships.
Contact: Nico Eisenhauer is speaker of the Research Unit and PI in multiple subprojects. Annette Jesch is the "plant postdoc" in the central project. Jes Hines is PI is the subproject "Plant diversity, plant history, and soil history effects on the temporal dynamics of plant and soil activity", and Ana Elizabeth Bonato Asato is the PhD student in this subproject. Angelos Amyntas is PhD student in the subproject "Multi-trophic energy fluxes in soil food webs along plant diversity-productivity gradients".
MyDiv in TreeDivNet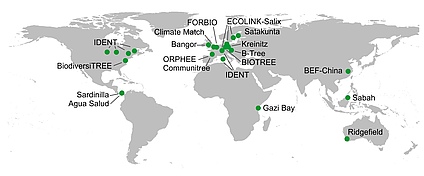 TreeDivNet
is an international platform for research on the relation between tree species diversity and ecosystem functioning. The network groups several research projects in different parts of the world and forms the largest project on ecosystem research worldwide. In total, over 775 000 trees were planted in the 17 research projects on a total surface of more than 800 ha. We use the TreeDivNet platform to measure soil microbial respiration in established tree diversity experiment.
Contact: Simone Cesarz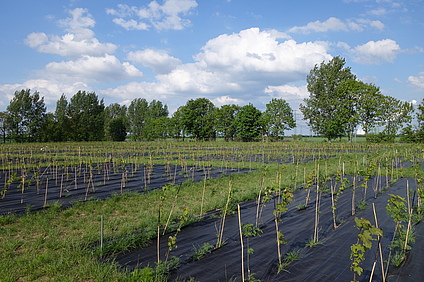 MyDiv is a recently established tree diversity experiment in the form of an open experimental platform. It is located at the UFZ field research station in Bad Lauchstädt. MyDiv investigates the role of mycorrhiza and its different types in tree diversity-ecosystem functioning relationships and in belowground carbon flow. We expect tree species communities of different mycorrhizal types to act complementarily compared to communities of only one type and that this effect is even stronger in more diverse tree communities. Further, tree communities with diverse mycorrhizal associations may foster more diverse soil animal communities. On 80 plots, we planted tree species in monocultures, 2-species, and 4-species mixtures. At each of the tree diversity levels, we established communities with only ectomycorrhiza, only arbuscular mycorrhiza or mixtures of both mycorrhizal types.
More details: www.idiv.de/mydiv
Contact: Olga Ferlian
iDiv Ecotron
The iDiv Ecotron is a joint research platform of the German Centre for Integrative Biodiversity Research (iDiv) Halle-Jena-Leipzig and the Helmholtz Centre for Environmental Research - UFZ. The indoor research facility houses 24 identical experimental units, the so-called EcoUnits, each of which can contain one to four independent ecosystems, separated above- or belowground, or both. The faunal species composition within these ecosystems can be manipulated with respect to the number of species within a trophic level (horizontal diversity) as well as with respect to the number of trophic levels themselves (vertical diversity). The main objective of the iDiv Ecotron is to manipulate multitrophic diversity in above-belowground food webs and study the consequences for many ecosystem functions. By providing the unique opportunity to fully control environmental conditions like temperature, nutrient supply, and precipitation of each single ecosystem within the EcoUnits while measuring ecological processes with non-invasive methods, the iDiv Ecotron provides the link between laboratory and field studies as it combines the advantages of both.
Contact: Anja Schmidt
TreeDì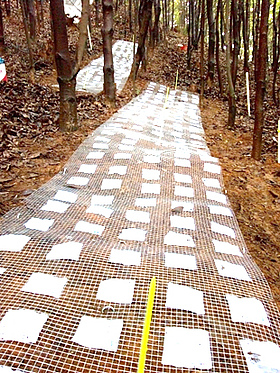 In the framework of the TreeDì doctoral school, we are studying the effects of tree-tree interactions on soil biodiversity-ecosystem functioning within the BEF China experimental platform. We aim to understand the mechanisms behind tree diversity effects on soil ecosystem functioning by studying tree functional dissimilarity. In more detail, we investigate the effects of tree – tree functional dissimilarity and local neighborhood diversity on soil functioning. Therefore, soil nitrogen and carbon dynamics modeling is used as well as measurements of microbial community composition and functions including decomposition processes experiments. Rémy Beugnon is a current PhD student in TreeDì and is supported by his bachelor student Georg Hähn.
Contact: Nico Eisenhauer, Simone Cesarz
Global Change Effects on Complex Communities and Ecosystem Functioning
EcoWorm
The EcoWorm project investigates "Ecosystem responses to exotic earthworm invasion in northern North American forests" and is funded by the European Research Council as a Starting Grant to Nico Eisenhauer, 2016-2021.
Earth is experiencing substantial biodiversity loss at the global scale, with both species gains and losses occurring locally and regionally. Nonrandom changes in species distributions could profoundly influence ecosystem functions and services. However, few experimental tests have examined the influences of invasive ecosystem engineers, which can have disproportionately strong impacts on native ecosystems. Invasive earthworms are a prime example of ecosystem engineers that influence many ecosystems around the world. In particular, European earthworms invading northern North American forests may cause simultaneous species gains and losses with significant consequences for essential ecosystem processes like nutrient cycling and crucial services like carbon sequestration. Using a synthetic combination of field observations, field experiments, lab experiments, and meta-analyses, research in the framework of the EcoWorm project will be the first systematic assessment of earthworm effects on relationships between soil food webs, plant communities, aboveground invertebrate communities and ecosystem processes. Further, effects of a changing climate on the spread and consequences of earthworm invasion will be investigated. Meta-analyses will be used to test if earthworms cause invasion waves, invasion meltdowns, habitat homogenization, and ecosystem state shifts. Global data will be synthesized to test if the relative magnitude of effects differ from place to place depending on the functional dissimilarity between native soil fauna and exotic earthworms. Integrating local to global scales, the project examines the influence of earthworm invasions on biodiversity–ecosystem functioning relationships from an aboveground–belowground perspective.
Contact: Nico Eisenhauer, Olga Ferlian, Malte Jochum
Global Change Experimental Facility (GCEF)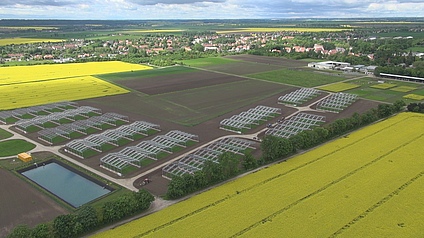 The GCEF is a large experimental platform located at the field research station of the Helmholtz-Centre for Environmental Research in Bad Lauchstädt, Germany. The consequences of climate change are explored under five land use types, which include conventional farming, organic farming, intensively used grassland (frequently mown), extensively used grassland (moderately mown) and extensively used grassland (grazed by sheep). During the summer months, precipitation is reduced by approx. 15%; during spring and autumn precipitation is increased by approx. 5%. We are investigating the effects on belowground processes and the functional composition of soil food webs by sampling soil organisms and studying the phenology of soil microbial and animal activity. Julia Siebert is a current PhD student in the GCEF.
Contact: Nico Eisenhauer
BadNut in Nutrient Network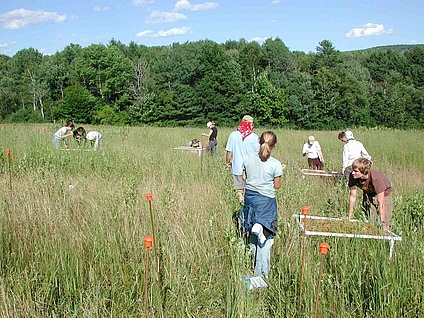 The Nutrient Network (NutNet) is a grassroots research effort to address multiple questions within a coordinated research network comprised of more than 90 grassland sites worldwide. We established our experimental site "BadNut" at the field research station of the Helmholtz-Centre for Environmental Research in Bad Lauchstädt, Germany in 2014/2015. Co-PI in Bad Lauchstaedt is Dr. Sylvia Haider (MLU Halle, http://www.botanik.uni-halle.de/geobotanik/sylvia_haider/ ). Within NutNet, Nico Eisenhauer is leading a study on soil microbial and animal activity. Julia Siebert is a current PhD student in the Nutrient Network.

Contact: Nico Eisenhauer
BadDrought in Drought-Net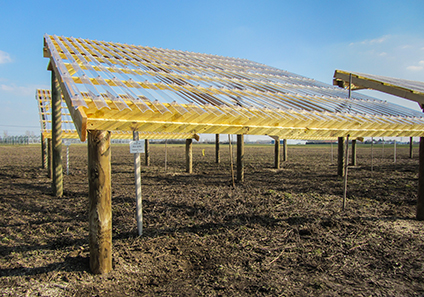 The Drought-Network is a global research initiative to study the sensitivity of terrestrial ecosystems to extreme drought. Passive rainout shelters are used to constantly reduce a site-specific percentage of precipitation based on the 1st percentile of the long-term record. We established our experimental site "BadDrought" at the field research station of the Helmholtz-Centre for Environmental Research in Bad Lauchstädt, Germany in 2014/2015. Co-PI in Bad Lauchstädt is Dr. Harald Auge (UFZ Halle, https://www.ufz.de/index.php?de=38598). In addition to the drought treatment we also included a nutrient treatment (NPK) to study the interactive effects of both factors. Julia Siebert is a current PhD student in the Drought-Network.

Contact: Nico Eisenhauer
BadBug in BugNet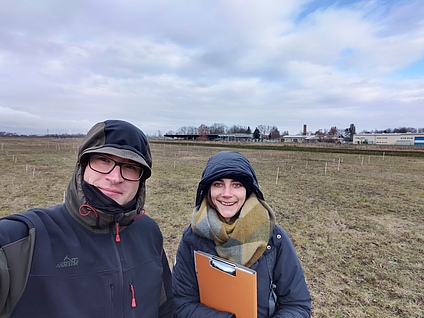 The Bug-Network (BugNet) is a global collaborative research initiative, led by researchers from the University of Bern, Switzerland, to study the impact of invertebrate herbivores and pathogenic fungi on plant communities and ecosystems. Arthropod herbivores, molluscs, and fungal pathogens will be excluded from different plots to study their impact. Our experimental site "BadBug" was established in late 2021 at the field research station of the Helmholtz-Centre for Environmental Res)earch in Bad Lauchstädt, Germany. BadBug is jointly led by Dr. Lotte Korell (UFZ) and Dr. Malte Jochum (iDiv), with support by Dr. Harald Auge, Dr. Martin Schädler, and Prof. Nico Eisenhauer. At BadBug, we aim to assess responses of the plant community, arthropod community, and soil conditions to the experimental treatments. From 2023 onwards, we will employ a PhD student for the project.
Contact: Malte Jochum, Nico Eisenhauer
Macroecological Patterns of Soil Biodiversity and Ecosystem Functioning
Introduction
Understanding the general patterns of soil biodiversity and ecosystem functioning is critical not only to contribute to the protection of these communities and functions, but also to be able to assess their changes in relation to climate and land-use change. Therefore, our group, in the scope of the Soil Biodiversity and Function Taproot, is involved in several global and regional initiatives that will contribute to the understanding of the patterns, trends and overall dynamics of soil systems. These analyses will allow us (i) to improve our understanding of biodiversity-ecosystem functions relationships, (ii) to describe general patterns of soil biodiversity and ecosystem functioning, (iii) to understand the main macroecological drivers of soil systems, and (iv) to identify macroecological trends in soil biodiversity and ecosystem functioning. The information collected here will ultimately serve to inform the national and international policy agendas to improve soil conservation.
Soil BON
Soil organisms and ecosystem functions are poorly represented in macroecological analysis with extensive geographic and thematic gaps undermining our assessment of soil ecosystems worldwide. In this context, in 2018, an international group of researchers decided to establish the first global soil biodiversity observation network to not only reduce the geographic gaps in knowledge, but also to provide support for the development of new monitoring systems and allow to assess trends in soil biodiversity and ecosystem functions. Constituted as a global Soil Biodiversity Observation Network (Soil BON), this group is working in partnership with the Global Soil Biodiversity Initiative (GSBI) and other global and regional partners to make available the soil biological and ecosystem observations needed to ensure living soil resources are sustainably conserved and managed and can support essential human needs. Soil BON partners represent a range of stakeholders, including researchers, educators, and policy advisors from academic, governmental, and private sectors. The goal is to further connect multi-national partners and initiatives in a worldwide effort to understand soil biodiversity, document how it is changing, how these changes affect people who rely on soil living resources for their well-being and livelihoods, and how a sustainable use of ecosystems can safeguard soil biodiversity. With support from iDiv, several sampling campaigns are already programed and collaborations with other global initiatives (Global Crop Microbiome, Biodesert, iSBio, among others) will improve our scope and enlarge our capacity to understand global soil systems and their contribution to biogeochemical cycles.

Contact: Carlos Guerra
LUCAS Soil Ecosystem Functions
In collaboration with the European Soil Data Centre from the Joint Research Center, iDiv members from different institutions (FUB, UFZ, UL) started a project to assess European Soil Functions. This project emerges from the soil sampling campaign within the Land Use and Coverage Area frame Survey supported by the Eurostat and aims to process ~1000 soil samples collected across all European countries. Together with the Joint Research Center we will be able to assess not only the patterns of soil ecosystem functions, but also their drivers and the links to biodiversity. This significant effort from iDiv and the Joint Research Center will allow to have for the first time a deeper view of belowground dynamics in Europe and to assess the impacts of human activities on soil systems.

Contact: Carlos Guerra
iSBio
The iSBio Consortium was created in 2018 in collaboration with the TeaComposition network and consists of 106 institutions distributed across 35 countries including Germany, Austria, Belgium, the Czech Republic, Estonia, Finland, Hungary, Norway, Portugal, Serbia, Slovakia, Spain, Sweden, Switzerland, the UK, Bulgaria, France, Italy, Romania, USA, Puerto Rico, Argentina, Chile, China, Australia, Brazil, China, South Africa, Russia, Mexico, Japan, Malaysia, India, Canada, Burkina Faso, and Ivory Coast. It aims to establish a long lasting global collaboration among multiple partners to study soil macro-ecological biodiversity patterns and how these relate to important soil functions, such as litter decomposition, soil carbon sequestration, aggregate stability, and nutrient cycling. Being a global project, it will focus on (i) understanding the macro-ecological patterns related to soil biodiversity and ecosystem function relations, (ii) supporting global soil biodiversity distribution models, and (iii) publishing scientific papers and reports and disseminate soil biodiversity data in global databases.

Contact: Carlos Guerra